« back to texting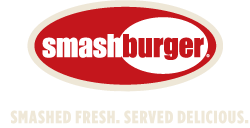 Smashburger
Not long ago, people ate lots of ordinary burgers. These burgers were perfectly acceptable. They were inexpensive, satisfied the appetite, and tasted much better than many of the other foods that people were eating. Plenty of burger places were opened and they served billions and billions. But there was something missing – the need for something satisfying and real, something basic and good, something affordable and fresh – a place with a burger soul. A place that burger lovers could call their own and feel pride in recommending to their friends. So we asked ourselves, shouldn't there be a better way? Smashburger was born to carry the torch for the modern burger lover. Where smash. sizzle. savor means a dedication to creating the best-tasting "smashed-to-order" burger. We start with 100% Angus Beef, smashed, seared and seasoned on the grill, placed on a butter-toasted artisan bun and topped with the highest-quality cheeses, freshest produce and condiments. A place where you can get a meal for every taste and appetite, where you can select one of our great recipes or you can create your own. A place that is close to home and affordable. Where the energy is comfortable and relaxed. Where the food is served to you quickly and on a plate – not in a bag. — Smashburger is the better way. Smashburger is fast becoming every city's favorite place for burgers. It is perfect for eating in or having a better burger to go, a quick workday lunch, the weekend burger and beer, date night, a family dinner, or with the team after the game. Smashburger has something great for everyone. Along with our great-tasting burgers and smashfries – smashchicken sandwiches and signature salads, veggie frites and haystack onions, Häagen-Dazs shakes and bottled beer and wine – help make Smashburger every city's favorite place for burgers.
Contact Information
4315 West Main Street
Kalamazoo MI 49006
269-492-9400
---
*Message & data rates may apply. Text STOP to quit. Text HELP for help or call 877.571.0774 for support. To opt-out of alerts, text KEYWORD and STOP to 80373 (Ex. STOPWEATHER). Subscribers will receive no more than twenty messages per week when subscribing to any of our Alerts or Offers. No purchase necessary. Marketing text messages will be delivered to the phone number you provide at opt-in.
Approved carriers for texting 80373 are: Verizon Wireless, T-Mobile, Sprint/Nextel/Boost, AT&T, U.S. Cellular, Cellcom and Element Mobile. Sprint users may need to call their customer service representative to have the short code functionality activated on their cell phones. For questions or support, please call 877.571.0774.