« Shows & Personalities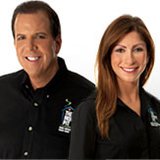 The Money Pit
On Air:

Sunday, Noon - 2pm
About the Show

Tom Kraeutler is a hands-on home improvement broadcast journalist and the kind of guy homeowners want to call at midnight when their basement floods. A former long-time professional home inspector, Tom garnered 20 years experience learning how houses are put together and how they fall apart. His credibility and smart advice builds confidence with his audience and attracts the most active home enthusiasts who are frequent purchasers of related products. Since 1994, Tom has given credible, candid advice, money-saving tips and hands-on how-to's to millions of Americans through his regular appearances on TV and radio, online, and in major print media. Tom has appeared regularly as a how-to guru on network and local television stations including CNN, MSNBC, Fox, The History Channel, HGTV and the DIY Network.

Leslie Segrete is co-host of The Money Pit. She's a home improvement expert with an eye for design and the skills to get the job done. She knows what turns a house into a home and has the tips and ideas to make improvements easy and fun.

Leslie's home improvement skills span radio, television and print. Leslie was part of making design dreams reality as a carpenter and designer for TLC's hit series Trading Spaces and While You Were Out, where she designed, built and executed projects to please the participating families and millions of her fans every single week. More recently, Leslie hosted a series for A&E called $100 Makeover which helped people sort through their clutter to find design treasures to make over rooms in their house. She was also the lead designer on The Ugliest House on the Block, on the We Network, creating dramatic exterior makeovers that benefited the whole community. Plus, Leslie hosted a series called Going Green Long Island for WLIW, a division of PBS which focused on the green advancements this New York community has made.

As co-host of The Money Pit, Talkers Magazine named Leslie to their prestigious Heavy Hundred list of the "100 Most Important Talk Show Hosts in America ." Together with Tom Kraeutler , Leslie co-authored My Home, My Money Pit: Your guide to Every Home Improvement Adventure.

Leslie is a seamstress, carpenter, decorator, designer and professional chef all wrapped up in one very energetic package. She's a true renaissance woman through and through!