« Shows & Personalities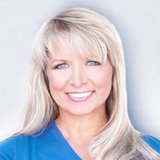 Kim Komando Show
On Air:

Saturday, 6pm - 9pm; Sunday, 4pm - 7pm
About the Show

Kim Komando is the host of The Kim Komando Show, a top-10-rated radio talk show with over 8 million listeners every week. She is also a syndicated columnist, and the author of seven books.

Kim began her businesses in 1992 after several years of selling computer and telephone systems for IBM, AT&T and Unisys. She started with a radio show at KFYI and a column in the Arizona Republic. Both are in Phoenix.

Today more than 400 radio stations carry her weekly show around the world. Kim also is a syndicated columnist, appearing in over 100 newspapers, including USA Today. She also writes a technology column for small business on Microsoft's Small Business Web site. In addition, she publishes three e-mail newsletters that have more than 1 million subscribers, and she is frequently asked to appear on network television, including CNN.