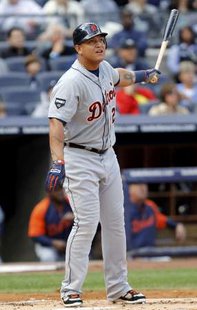 BALTIMORE (WKZO)- The Detroit Tigers had nothing going for them for the first eight innings as they trailed the Baltimore Orioles 1-0 on an Adam Jones home run hit in the first inning off of Drew Smyly.
Then the ninth inning rolled around and the Tigers bats came to life. Alex Avila started the inning with a single down the third base line while the Orioles were playing in the overshift. Rajai Davis came into pinch run for Avila. Davis tried to steal second base and was first called out, but after a lengthy review he was called safe.
After Don Kelly and Ian Kinsler each hit into outs Torii Hunter stepped to the plate and drew a walk to put two runners on base for Miguel Cabrera. Then Cabrera delieved as he hit a three run home run to give the Tigers a 3-1 lead, his sixth of the season. The Tigers weren't done as Victor Martinez was the next batter and hit a solo shot, his ninth home run of the season, to give the Tigers a 4-1 victory.
Drew Smyly gets the no decision as he pitched six innings giving up one run on five hits while walking two and striking out seven. Justin Miller picked up the victory and Joe Nathan picked up his ninth save.
The Tigers will look to complete the sweep Wednesday afternoon. Justin Verlander (4-2 2.67 ERA) will get the start tomorrow for the Tigers and Kevin Gausman will make the start for the Orioles. Broadcast time will be at 12:10 pm on AM 590 WKZO.