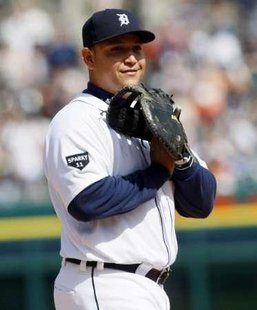 DETROIT (WKZO)- Robbie Ray was making his pitching debut for the Tigers and he gave up a double to the first batter he faced tonight, but he settled down after that as he pitched 5 1/3 innings giving up only one run on five hits while walking one and striking out five and getting the win in his debut.
Ray got run support early and often as Miguel Cabrera hit a solo home run in the 1st inning, his third of the season to give the Tigers an early 1-0 lead.
The Tigers added two more runs in the third inning as Hunter brought home Alex Avila with a sacrifice fly and Victor Martinez brought home Danny Worth with a single to push the lead to 3-0.
Worth hit a sacrifice fly in the fourth to make it 4-0 and then in the seventh Cabrera brought home Ian Kinsler with a single and J.D. Martinez brought home Torii Hunter with a sacrifice fly and it was 6-1 after seven innings.
The Tigers piled it on the Astros in the eighth inning as Worth hit a two run single and Carbera hit a two run double to make it 10-1 and Victor Martinez finished off the scoring with a single to bring home Cabrera and make it 11-1. The Astros added three runs in the ninth to make it 11-4, but that is as close as they would get.
Cabrera was 4-5 tonight with one home run and four RBIs and Danny Worth was 2-3 with 3 RBIs. Torri Hunter has now exteneded his hit streak to 12 games and the Tigers have now won seven straight.
The Tigers will look for another win tomorrow against the Astros as Rick Porcello (4-1 3.66 ERA) will get the start for the Tigers and the Astros will counter with Brad Peacock (0-2 5.26 ERA). Tigers coverage will begin at 6:40 pm on AM 590 WKZO.