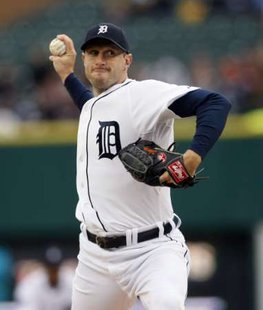 DETROIT (WKZO)- The Tigers and Astros could not find the scoreboard until the sevnth inning as Rajai Davis hit a single to drive in Nick Castellanos to give the Tigers a 1-0 lead. Victor Martinez then added an insurance run as he hit a solo home run to right field to give the Tigers a 2-0 lead.
Joe Nathan came on in the ninth inning to pick up the save for the Tigers, his sixth of the year.
Max Scherzer (4-1) pitched a solid eight innings giving up no runs on three hits while walking one and striking out nine. Scherzer got out of a jam in the eighth as he got a strike em out-throw em out to get out of the inning.
Torri Hunter has exteneded his hitting streak to 12 games.
The Tigers have now won six straight games and will look for another victory tomorrow against the Houston Astros. Robbie Ray will make his Tigers debut tomorrow as he will make his first ever career start in a Tigers uniform. He will square off against Brett Oberholtzer of the Astros (0-5 5.63 ERA). Broadcast time is at 6:40 pm on AM 590 WKZO.