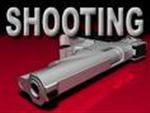 KALAMAZOO (WKZO)-- Kalamazoo detectives are looking for the gunman responsible for a drive by shooting on Woodbury Street that left a 28-year-old Kalamazoo man wounded.
It happened just after 9 a.m. Saturday. Public Safety first learned of the shooting when the victim was admitted at Bronson Emergency with a bullet wound to the foot, after arriving in a private vehicle.
The victim apparently told police that he was walking in the 800 block of Woodbury when a black man in a red vehicle rolled up behind him and opened fire. The gunman then drove off.
Anyone with information about this incident is asked to contact Kalamazoo Public Safety at 337-8994 or Silent Observer at 269-343-2100 or www.kalamazoosilentobserver.com.