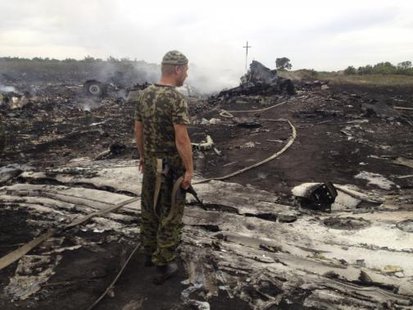 Undated (Foxnews.com) The bodies of nearly 300 passengers and crew aboard the Malaysia Airlines jet shot down over Ukraine are being turned over to Dutch authorities, while the black boxes from Flight 17 will be handed over to Malaysian authorities, pro-Russian separatists said Monday.
The announcement came amid increasing criticism of the separatists' handling of the crash site in eastern Ukraine, and charges that Moscow was helping ethnic Russian insurgents orchestrate a cover-up.
Malaysian Prime Minister Najib Razak told reporters Monday the leader of the pro-Russian rebels has agreed to hand over both of the jetliner's black boxes to Malaysian investigators in Ukraine.
Najib also said that the remains of 282 of the crash victims currently in the rebel-held eastern town of Torez are being moved by train to Kharkiv in Ukraine, where they will be handed over to Dutch authorities. The remains are then expected to be flown to Amsterdam.
Najib also said that as part of an agreement he reached with rebel leader Alexander Borodai Monday night, independent international investigators will be given "safe access" to the crash site.