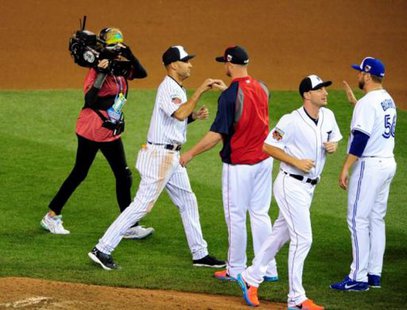 MINNEAPOLIS (1660 the Fan)- The American League used a three run first inning to help propel them to victory over the National League last night 5-3.
Detroit Tigers first baseman Miguel Cabrera hit a two-run home run in the bottom of the first inning to give the American League a 3-0 early lead.
The National League was able to tie the game up by the fourth inning, but in the bottom of the fifth inning the American League took the lead for good at 5-3.
Max Scherzer picked up the victory as he recorded two strikeouts in his one inning of work.
The star of the night was New York Yankees shortstop Derek Jeter as this was his last All-Star game. Jeter was 2-2 on the night scoring one run.
He got a standing ovation as he came up to bat and when he was relieved for the night he got another standing ovation that lasted nearly five minutes as Jeter tipped his cap to the fans.
MLB regular season play begins again on Friday.