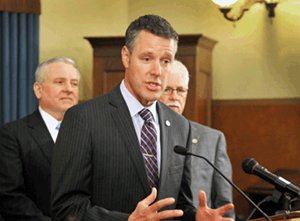 LANSING (WKZO) -- A west Michigan state lawmaker has introduced legislation intended to protect the personal information of Michigan residents who sign up for healthcare through the Affordable Care Act. State Senator John Proos has proposed legislation that would require background checks to be done on all healthcare navigators that help Michiganders sign up for insurance. Proos says the checks would be done by the Department of Insurance and Financial Services in order to protect the personal health care information of those seeking insurance.
"It's important that our healthcare information is secure and safe," Proos said. He added one way to help ensure that is to make sure that healthcare navigators are "above board."
Under the federal Affordable Care Act, navigators are the professionals charged with aiding individuals in enrollment in the program. Proos says that the recent data breach at Target is an example of why more should be done to protect the personal information of Americans.