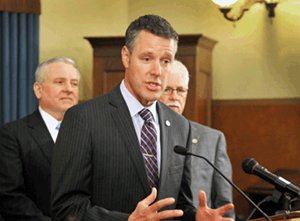 LANSING (WKZO) -- Michigan lawmakers will be working this year to approve more protections for victims of human trafficking. State Senator John Proos says that human trafficking in the United States usually involves forcing someone into prostitution, and he thinks it's a bigger problem in Michigan than many people might realize.
The State Senate passed bills in December to allow victims of human trafficking to have their records cleared of any crimes they were forced to commit. Proos says it's only fair that Michigan law recognizes that such people are victims, and not responsible for what they've been forced to do. He also is pleased that the bills protecting victims of human trafficking received bipartisan support.
Other bills recently approved eliminate the statute of limitations on trafficking, and allow victims to use their experience as evidence on their behalf at trial.