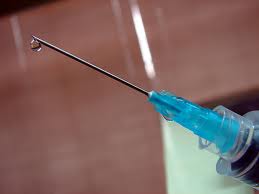 KALAMAZOO (WKZO) -- There's been an increase in cases of the flu this year in Michigan, and doctors urge everyone to get the vaccine. Doctor Richard Van Enk, with Bronson Healthcare, says that cases of the flu can show up even in the summer, but once it starts getting colder, it's advisable for just about everyone to get the vaccine. He tells us that the peak time for the flu will be in a couple of weeks, so now is a good time to get the shot.
Doctor Van Enk notes that it really doesn't matter where you get your flu vaccine, as only a handful of companies make it, and whatever version you're getting is likely to be effective. Experts say that even those who think they won't get the flu are doing some good when they get the vaccine because they're still protecting other from catching it.
In Kalamazoo County, there are seveal places to get the flu vaccine besides a doctor's office. they include Walgreen's, Meijer, and through the county health department. You can learn more about the county program by following this link.