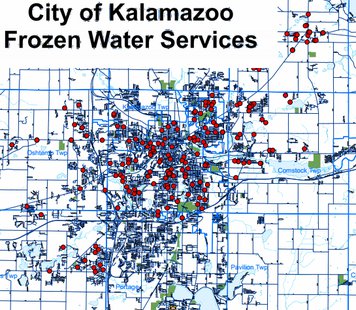 KALAMAZOO (WKZO) -- The City is expanding its warning to avoid frozen water lines to all customers, not just those with certain sized pipes, and telling them to expand the stream of water from a toothpick sized stream, to a pencil sized stream to keep the water moving and from freezing.
Frost depths in the area usually go as deep as 1 to 3 feet in a typical winter, but this has not been a typical winter, and city crews are seeing frost sink as deep as 5 feet in some yards.
They are expected to go even deeper when the below normal temperatures return next week.
Public Services Director Sue Foune says 100 customers have frozen lines, and the list is growing. They could be waiting in the queue for up to 3 weeks to be thawed out or have their lines replaced.
She says they have deployed extra crews and hired private excavating contractors to speed up the work.
She says they have tried to borrow equipment from other cities, but those communities have the same issues and equipment shortages.
They plan a morning news conference to discuss the growing problem.
We have learned that the American Red Cross is offering free bottled water to households with frozen water services. Bottles can be picked up at the Red Cross at 5640 Venture Court in Oshtemo.
The YMCA in the Kalamazoo area is also offering free use of their showers for impacted residents without water, at the Maple Street and Centre Street locations, and at the Sherman Lake YMCA.