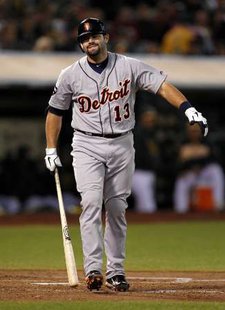 DETROIT (WKZO)- The Detroit Tigers bats were silent for most of the game as they were doubeled up by the Pittsburgh Pirates 4-2.
For the second straight night the Tigers tooks a 1-0 lead in the first inning as Ian Kinsler drove in Ezequiel Carerra. The Pirates were able to add two runs in the second inning and one in the third to take a 3-1 lead.
Tigers catcher Alex Avila his a solo home run in the top of the fourth to cut the Pirates lead to 3-2. The Pirates added another run in the sixth to make it 4-2.
The Tigers did threaten in the top of the ninth as Alex Avila and Nick Castellanos reached base with one out, but Torii Hunter and Rajai Davis each hit into an out to end the game.
Robbie Ray pitched five innings giving up four runs on six hits while walking two and striking out five. Ray reached base twice in the game, once on an error and then in his second at-bat he got his first career base hit as Pirates pitcher Edinson Volquez tried to field a chopper back to the mound, but went off his glove.
The Tigers finish their nine game road trip with a 2-7 record.
The Tigers come home Wednesday and will bring the Pirates with them as they now play a two game series in Detroit. Broadcast time tomorrow is at 6:40 pm on AM 590 WKZO. Buck Farmer will take the mound in his Tigers debut. Vance Worley (5-1 2.30 ERA) will get the starting nod for the Pirates.