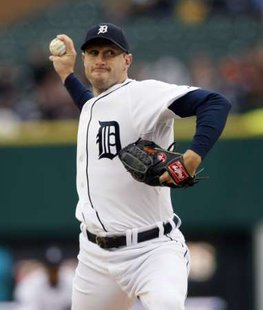 DETROIT (WKZO)- Max Scherzer (2-1) dominated the White Sox today as he had 10 strike outs in his victory. Scherzer pitched six innings giving up two runs on seven hits while walking one. Joe Nathan picked up his fourth save of the year.
The Tigers fell behind early in the second inning as Adam Dunn hit a solo home run to center to make it 1-0 White Sox.
The Tigers answered back in the bottom of the second as Nick Castellanos drove in Austin Jackson with a single and then in the bottom of the third Miguel Cabrera drove in Ian Kinsler with a single to give the Tigers a 2-1 lead.
They built on that lead in the bottom of the fifth inning as Rajai Davis hit a solo home run to make it 3-1.
After the White Sox trimmed the lead to 3-2 in the sixth, the Tigers answered back in the bottom of the seventh as Cabrera drove in Bryan Holaday and Danny Worth with a single to make it a 5-2 game.
The White Sox wouldn't go away and scored two in the top of the eighth inning to make it 5-4. Once again the Tigers added two runs in the bottom of the inning as Holaday drove in Jackson and Davis brought home Castellanos to make it 7-4 and put the game out of reach.
Cabrera finished 2-4 with three RBIs and Davis was 3-5 with 2 RBIs.
The Tigers will now travel to Minnesota to open up a three game series Friday. Rick Porcello (2-1 3.15 ERA) is scheduled to pitch for the Tigers and Kevin Correia (0-2 5.47 ERA) is set to take to the mound for the Twins. Broadcast time is set for 7:45 pm on AM 590 WKZO.