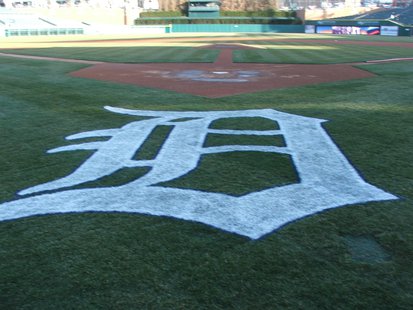 After a successful, yet cold home stand to open the season, the Detroit Tigers will head to sunny California for five games starting with a two-game series against the Los Angeles Dodges on Tuesday night.
A season after both teams lost in their respective league championship series, the two teams are once again favorites to not only be in the league championship series again, but also the World Series.
The Dodgers and their $230 million payroll are 5-3 on the season, but are without reigning NL Cy Young Award winner Clayton Kershaw and could be without outfielder Yasiel Puig after he injured his thumb during the weekend. However, in the absence of Puig, Matt Kemp returned to the lineup and blasted two home runs in his last game on Sunday and is hitting .333 so far this season.
Detroit will open the two-game set with their 2013 Cy Young winner Max Scherzer, who is 1-3 with a 4.55 ERA in five starts against the Dodgers. Scherzer has however had success against some the Dodgers big bats. Scherzer has held Kemp hitless in 16 at bats, while first baseman Adrian Gonzalez is just 3-17 (.176) against Scherzer and Hanley Ramirez is 0-for-3.
Los Angeles will counter with Dan Haren (1-0, 0.00 ERA) in the opener, while Josh Beckett could make his season debut in the final game of the series on Wednesday. Currently Hyun-Jin Ryu is scheduled to start but if Beckett is ready to go hell get the nod. Anibal Sanchez will start for Detroit in the finale.
First pitch of both games will be at 10:10pm and can be heard on 590 WKZO.