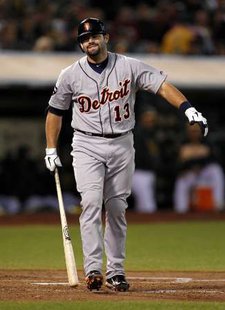 MIAMI (WKZO)- The Detroit Tigers led another game 1-0 going into the ninth inning, but this time they could not hold the lead. The Miami Marlins tied the game in the bottom of the ninth on an Ed Lucus two out single scoring Christian Yelich.
The Marlins then won in the 10th inning on a Giancarlo Stanton single to drive in Justin Ruggiano to give the Marlins a 2-1 victory. The Marlins were able to load up up the bases on two walks and a batter hit by pitch.
Evan Reed (0-1) takes the loss for the Tigers. Joaquin Benoit blew another save preventing Anibal Sanchez from getting his 15th win of the season. Sanchez went five innings giving up two hits and striking out eight. He lowered his ERA to 2.57, giving Sanchez the ERA title. Steve Cishek (4-6) gets the win for the Marlins.
The Tigers are now 6-13 in extra innings games on the season. The Tigers also broke the season record for strikeouts by a pitching staff in the season set by the Cubs in 2003. They now have 1,415 strikeouts heading into tomorrow's season finale looking to add to the record.
The Tigers only run came in the top of the fourth as Alex Avila hit a sacrifice fly that brought Prince Fielder home.
The Tigers look end the regular season with a win against the Marlins tomorrow. The Tigers send Justin Verlander (13-11 3.66 ERA) to the mound to face the Marlins as they counter with Henderson Alvarez (4-4 3.94 ERA). Broadcast time is 12:45 pm on AM 590 WKZO.