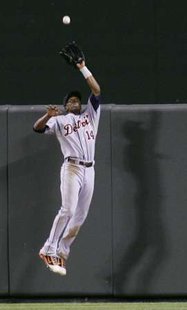 MINNEAPOLIS (WKZO)- The Detroit Tigers used a four run fourth inning and a strong pitching performance from Doug Fister to defeat the Minnesota Twins 4-2.
The Tigers fell behind 1-0 after the second inning. In the top of second inning the Tigers looked like they were going to jump out to an early lead after they loaded the bases with zero outs, but they were unable to bring any runs home.
The fourth inning was where the Tigers jumped ahead for good. Victor Martinez started off the inning with a solo home run and the next batter Omar Infante hit a home run as well to give the Tigers a 2-1 lead. After Ramon Santiago hit a single to right, Austin Jackson stepped to the plate to hit a two run home run to give the Tigers a 4-1 lead after four innings.
The Twins then threatened again in the seventh as Ryan Doumit hit a home run to lead off the inning to cut the Tigers lead to 4-2. The Twins were then able to put runners on first and second with one out, but Drew Smyly and Al Alburquerque were able to record the last two outs of the seventh.
Bruce Rondon and Joaquin Benoit were able to finish off the Twins in the last two innings. Benoit gets his 23rd save of the season. Doug Fister (14-9) gets the win for the Tigers. Scott Diamond (6-12) takes the loss for the Twins.
The Tigers magic number is now down to one game to clinch the division. If they clinch the division it will be their third straight AL Central Divsion title.
The Tigers had a chance to win the division tonight if the Chicago White Sox could have beaten the Cleveland Indians, but the Indians Jason Giambi hit a walk-off home run to give the Indians the win.
The Tigers look to win the rubber match of the series and clinch the division against the Twins tomorrow. The Tigers send their ace Max Scherzer (20-3 3.00 ERA) to the mound and the Twins counter with Kevin Correia (9-12 4.29 ERA). Broadcast time is at 7:45 pm on AM 590 WKZO.