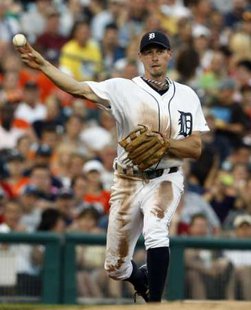 DETROIT (WKZO)- The Detroit Tigers were in a close game against the Seattle Mariners heading into the eighth inning, but the Tigers broke the game wide open with a three run inning. Victor Martinez and Don Kelly started off the inning with a pair of singles. Then Omar Infante stepped up to the plate and drove in Hernan Perez, who ran for Martinez. Then Austin Jackson singled to center and brought home both Kelly and Infante to give the Tigers a 6-2 lead that they would not give up.
The game had remained scoreless until the fourth inning until Don Kelly hit a solo home run to right field to give the Tigers a 1-0 lead. It was Kelly's 6th home run of the year.
In the top of the sixth the Mariners tied the game with a Raul Ibanez solo home run. In the bottom of the sixth though Miguel Cabrera showed off his power hitting a solo home run to right, his 44th of the year, to give the Tigers a 2-1 lead.
The Mariners though countered again in the seventh when Kendrys Morales doubled to center to bring home Michael Saunders and tie the game 2-2. The Mariners had a runner on third, but Al Alburquerque was able to get out of the jam with a pop out by Abraham Almonte and a Franklin Guiterrez strike out.
In the bottom of the seventh the Tigers regained the lead on a Torii Hunter sacrifice fly to bring home Jose Iglesias. The Mariners though were able to load the bases in the eighth and looked to take the lead, but Phil Coke was able to get Mike Zunino to ground out into an inning ending double play.
Alex Avila also hit his first triple of the season tonight.
The Tigers have now matched their season total for wins they had last year, 88, with 11 games left to play. The Tigers magic number to clinch the AL Central is now at six games.
Anibal Sanchez gets the no decision tonight as he went 6 1/3 innings giving up two runs on six hits while walking two and striking out 10. Al Alburquerque (3-3) gets the win tonight for the Tigers. Yoervis Medina (4-6) takes the loss for the Mariners.
The Tigers look for another win tomorrow against the Mariners. The Tigers will send Justin Verlander (13-11 3.66 ERA) to the mound. The Mariners will counter with Hisashi Iwakuma (12-6 2.87 ERA). Broadcast time tomorrow is at 6:40 pm on AM 590 WKZO.