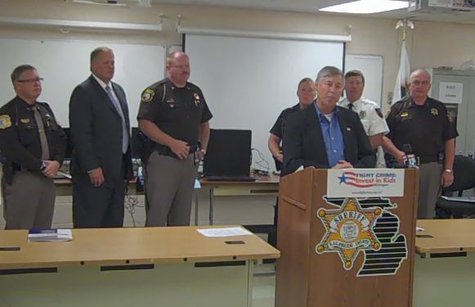 KALAMAZOO (WKZO) -- Representatives of several local law enforcement agencies were on hand for a Monday presentation from Fright Crime: Invest in Kids Michigan on the need for increased preschool funding. A report from the organization finds that implementation of a federal-state program to expand preschool in Michigan could lead to a long term reduction in the number of people incarcerated in the state, meaning hundreds of millions of dollars saved in the corrections budget.
There's no specific legislation on the table yet, but Kalamazoo County Sheriff Richard Fuller and Berrien County Sheriff Paul Bailey are among thousands of police officials around the country to call for increased early education, and they were on hand Monday as the Fight Crime report was handed on to Congressman Fred Upton. Upton says they have a good point, and that he thinks most people would agree an ounce of prevention is worth a pound of cure. The congressman said he'd wait and see what comes up as legislation, and suspects it won't be especially hard to generate some bipartisan support for a preschool bill.
Fight Crime: Invest in Kids Michigan also praised Governor Rick Snyder for backing a 65 million dollar increase in the preschool budget this year in Michigan, saying it demonstrates that early childhood education can be a bipartisan issue.