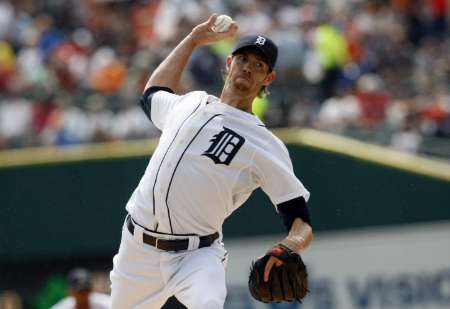 DETROIT (WKZO)- The Detroit Tigers were so close to tying the game up in the bottom of the 9th, but they came up just short losing 1-0 to the Kansas City Royals. With two outs in the ninth and Prince Fielder on first, Omar Infante hit a hooking line drive down the left field line, fair, and all the way to the wall. Infante made it to second on a double, but Prince Fielder was cut down at the plate on a perfect one hop throw to the catcher.
Doug Fister (12-9) takes the loss for the Tigers. Fister went 7 2/3 innings giving up one run on eight hits while walking four and striking out six. Ervin Santana (9-9) gets the win for the Royals and Greg Holland picks up his 43rd save of the season.
The only run of the game was scored in the top of the first inning by the Royals. After Alex Gordon got on with a single, Eric Hosmer hit a one out triple to center to bring in Gordon.
The Tigers defense did what they could in this game. In the top of the third Emilio Bonifacio drew a two out walk, but then was picked off by Fister to end the inning. Bonifacio was upset with the call, throwing down his helmet. The umpire quickly ejected him from the game after his emotional outburst.
In the fifth the Royals were able to load the bases on a Jarrod Dyson bunt single, an Alcides Escobar single and a Gordon walk. Fister though worked his way out of the jam as he got Chris Getz to fly out to center to the end the inning.
In the bottom of the sixth inning the Tigers were threating with Ausin Jackson on first and Miguel Cabrera stepped to the plate. Cabrera hit a deep fly ball to left that looked like it was going to get out of the park, but was caught at the wall to end the Tigers threat.
The Tigers agian threatened in the bottom of the seventh as they had Victor Marzinez on third and Andy Dirks at second. The Royals called to their bullpen and the Tigers sent the rookie Nick Castellanos to the plate, but he flyed out to center to end the inning.
The Tigers had one more chance in the eighth as Cabrera stepped to the plate with Torii Hunter on second, but Cabrera grounded out to second.
It was the Tigers fourth 1-0 loss this year.
The Tigers will look to win the rubber match and final game of the season against the Royals tomorrow. The Tigers will send Max Scherzer (19-3 3.01 ERA) to the mound tomorrow as he looks for his 20th win of the season. The Royals will counter with Jeremy Guthrie (14-10 4.11 ERA). Broadcast time tomorrow is set for 12:40 pm on AM 590 WKZO.