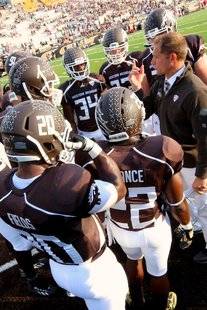 Evanston, IL (WKZO) – After being held scoreless in the first quarter, the Northwestern Wildcats scored three touchdowns in a span of 6:31, demolishing WMU's hopes of an upset and dropping the Broncos to 0-3 with a 45-17 victory on Saturday night.
Northwestern had two 100-yard rushers and four scores on the ground, led by Treyvon Green. Green scored two second half touchdowns to go along with 158 yards rushing.
Quarterback Kail Colter also reached a triple figure total on the ground with 106 yards and scored the Wildcats first touchdown at the 8:46 mark of the second quarter.
The Broncos defense held the Wildcats below their season average of points and yards but the 24 points they yielded in the second quarter was too much for the Broncos' offense to overcome against a stingy Wildcat D.
Broncos' freshman receiver Corey Davis continued to shine as he hauled in five passes for 112 yards, including a 75-yard TD reception to but the Broncos in the lead 10-7. Western scored again in the third quarter on a 25-yard TD pass from Tyler VanTubbergen to Josh Shaffer, trimming the lead to 31-17.
VanTubbergen was 16 of 41 for 202 yards, two touchdown passes and was picked off once. Justin Currie recorded his first interception of the season in the first quarter off of Colter.
Brian Fields led the Broncos in rushing with 79 yards on 13 carries
Topping the tackles list was Mike Jones with 10. Andy Haldeman kicked a 37-yard field goal to give WMU the lead 3-0 in the first quarter.