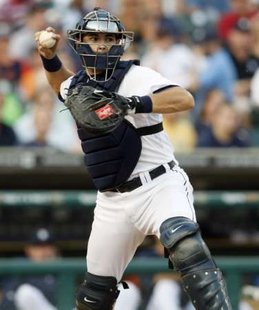 In another tight low scoring game the Tigers relied on Alex Avila to produce all of their offense and his eighth inning home run gave the Tigers with win as the Detroit beat Kansas City 3-2 at Comerica Park on Sunday afternoon. The win moved the Tigers magic number to nine with the result of the Indians game still pending.
Detroit got on the board first in the second inning when Avila hit his first home run of the day, a two run home run to left which scored Omar Infante. Kansas City got on the board in the fourth inning when Alex Gordon hit a home run. The 2-1 lead would last until the eighth inning when the Royals tied the game on a wild pitch from Drew Smyly. The deadlock did not last long as Avila hit his second home run of the day in the bottom of the eighth inning. Joaquin Benoit came on and got the final three outs to earn his 20th save of the season.
The Tigers once again missed a chance to deliver Max Scherzer's 20th win of the season. It was not on the fault of Scherzer who pitched seven strong innings allowing one run on only five hits and struck out 12. That is four straight starts where Scherzer has been unable to pick up his 20th win. The Tigers offense once again got hits but was unable to produce runs. They managed 13 hits but left ten men on base and were 0-9 with runners in scoring position.
The Tigers now will welcome in the Seattle Mariners for a four game series starting on Monday night. Rick Porcello will make the start against the Mariners' Joe Sauners.