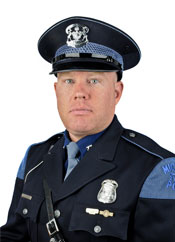 LUDINGTON (WKZO) -- Flags are flying at half staff at all state buildings and many other places after the shooting death of State Police Trooper Paul Butterfield.
He was a 12-year veteran of the State Police, the son of a State Police officer who had been a track star, an army veteran and was engaged to be married.
The suspect, 19-year-old Eric Kynsz is also the son of a police officer, but his teen years were marked by trouble, a home invasion, drunken driving, a weapons charge and a domestic violence count.
Lt. Chris McIntyre says they are working thru their grief to do a proper investigation, avoid mistakes and get it to the prosecutor.
Kynsz remains at Munson Hospital with a leg wound. His very pregnant wife remains in custody. It's not clear what charges she will face.
Funeral Services for Trooper Butterfield are tentatively scheduled for Saturday in Manistee, and a candlelight vigil has been scheduled for this Saturday night in Ludington.
The father of the suspect, John Kynsz says he just can't believe what has happened. He is a former police officer himself.
The 19-year-old suspect is under guard at Munson Hospital, where he is being treated for a leg wound suffered in a brief gunfight with police officers just before his capture. His wife is in jail, awaiting arraignment.