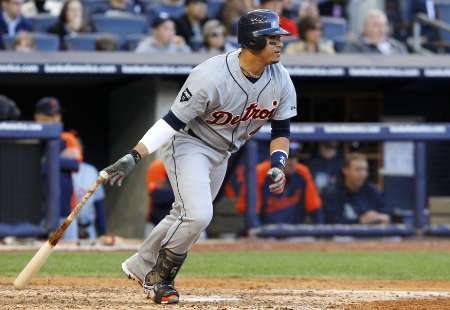 CHICAGO (WKZO)- Chris Sale quieted the Detroit Tigers bats tonight in a 5-1 victory for the Chicago White Sox. Sale went eight strong innings for the White Sox giving up one run on four hits while striking out eight. Sale improves his record to 11-12.
The game started out in bad fashion for the Tigers as Miguel Cabrera was ejected in the first inning while he was up to bat. Cabrera appeared to get hit on the leg by a Chris Sale pitch, but the umpire thought otherwise and called it a strike. Cabrera continued to talk to the ump as the at-bat continued and then the umpire ejected Cabrera. Manager Jim Leyland came out as well to argue the call and was also ejected. Ramon Santiago replaced Miguel Cabrera at third base the rest of the game.
The Tigers only run came off the bat of Victor Martinez, a solo home run in the top of the seventh inning. Otherwise the Tigers only had one other baserunner reach second base in the game.
Max Scherzer started the game for the Tigers and was seeking his 20th win of the season, but he came up short and his record falls to 19-3 on the season.
Scherzer gave up two runs in the first inning and three more in the fourth inning. Scherzer only went four innings, his shortest outing of the season, giving up five runs on, four of them earned, on six hits while striking out six and walking two.
The Tigers fall to 2-5 on thier current road trip and their lead in the AL Central has been trimmed to 4 1/2 games by the Cleveland Indians.
The Tigers will look to get back on the winning track tomorrow against the Chicago White Sox. Rick Porcello (11-8 4.76 ERA) will take to the mound for the Tigers while the White Sox will counter with Erik Johnson (0-1 4.50 ERA). Broadcast time is at 7:45 pm on AM 590 WKZO. First pitch is scheduled for 8:10 pm.