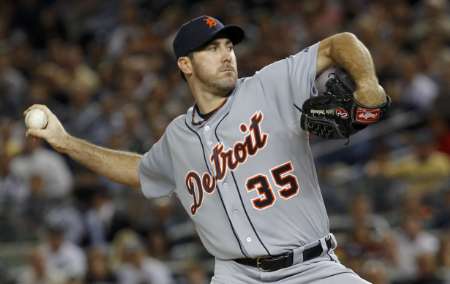 KANSAS CITY (WKZO)- The Tigers bats fell silent tonight as they could only muster five hits as they fall to the Royals 4-3. Most of the Tigers base runners tonight came from Kansas City walking a combined six batters including five from thier starter Danny Duffy.
The Tigers did start out well as Prince Fielder was able to drive in Austin Jackson in the first inning with a single to right field to give the Tigers an early 1-0 lead. Jackson and Miguel Cabrera each were walked earlier in the inning.
The Royals though were able to tie the game up in the third inning on an Emilo Donifacio bunt single to bring in Alcides Escobar.
In the fifth inning the Tigers were able to load the bases on a Nick Castellanos single, a Ramon Santiago and Austin Jackson walk. Duffy was then relieved by Wade Davis and Davis walked Cabrera to bring Castellanos home and give the Tigers a 2-1 lead.
The Royals though tied it back up in the bottom of the inning with an Escobar single to bring home Jarrod Dyson.
Justin Verlander made his biggest mistake in the game in the sixth giving up a two-run home run to Salvador Perez to put the Royals up for good at 4-2. The Tigers tried to fight back as Cabrera was able to bring home Bryan Pena in the seventh to cut the lead to 4-3, but that was all they managed.
Justin Verlander (12-11) takes the for the Tigers. Verlander pitched seven innings giving up four runs on eight hits, striking out seven and walking one. Wade Davis (7-10) gets the win for the Royals and Greg Holland (39) picks up the save.
The Tigers will look to win the rubber match tomorrow afternoon as they send Doug Fister (12-7 3.66 ERA) to the hill. The Royals will rely on the arm of Bruce Chen (6-2 2.81 ERA). Broadcast time tomorrow is at 1:45 pm on AM 590 WKZO. First pitch is scheduled at 2:10 pm.