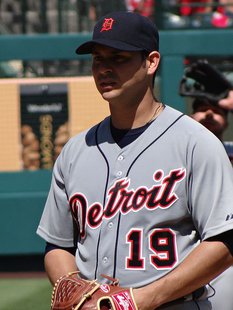 KANSAS CITY (WKZO)- Two nights ago the Detroit Tigers got pounded by the Boston Red Sox 20-4. Two nights later the Tigers were the ones doing the pounding beating the Kansas City Royals 16-2.
The Tigers collected 26 hits, a season high, in their victory. Both Andy Dirks and Omar Infante had five hits each in the win. Infante also had six RBIs and Austin Jackson had four RBIs as well.
The Tigers trailed 1-0 after the first inning, but they then put five runs on the board in the second inning and from there they never looked back.
The Tigers were double happy tonight as Jackson, Dirks, Infante, Torii Hunter, Alex Avila, and Ramon Santiago each had a double in tonight's game.
Anibal Sanchez (13-7) gets the victory tonight going seven strong innings giving up one run on seven hits while striking out five and walking one. James Shields (10-9) takes the loss for the Royals.
The Tigers look to get another big victory tomorrow against the Royals as the Tigers will send Justin Verlander to the mound (12-10 3.59 ERA). Kansas City will counter with Danny Duffy (2-0 1.35 ERA). Broadcast time tomorrow is at 6:45 pm on AM 590 WKZO. First pitch is slated for 7:10 pm.