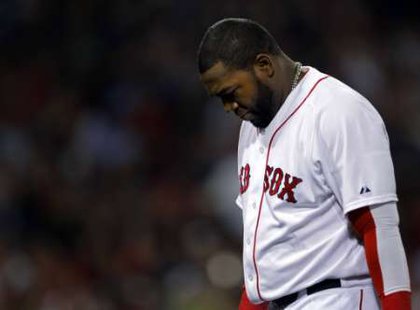 BOSTON (WKZO)- The Detroit Tigers and the Boston Red Sox were tied 4-4 after four innings of play. After that it was all Boston as the Red Sox homered eight times, tying a franchise record, to put away the Tigers and win 20-4.
The Tigers trailed 2-0 after the second inning, but in the top of the third Torii Hunter drove in Jose Iglesias on a fielder's choice. Then Prince Fielder hit a two run home run to give the Tigers a 3-2 lead. It was Fielder's 22nd home run of the season.
The Red Sox though tied it up in the third as Jacoby Ellsbury hit a solo home run to make the game 3-3. Iglesias brought in Don Kelly on another fielder's choice to give the Tigers a 4-3 lead, but they gave it right back in the bottom of the fourth as David Ortiz hit his first of two home runs on the night to tie the game at 4-4.
The straw that broke the camel's back though was a Will Middlebrook's grand slam off of Al Alburquerque in the sixth inning. That broke the game wide open as the Red Sox took a 10-4 lead at this point.
Other Red Sox players to hit home runs inclueded Daniel Nava, Mike Napoli, Stephen Drew, and Ryan Lavarnway...Ortiz also recored his 2,000th career hit on a double in the sixth inning...former Tiger Quintin Berry got into the game for the Red Sox and was 2-2 with two runs and two RBIs.
Ryan Dempster (8-9) gets the win while Rick Porcello (11-8) takes the loss. Porcello pitched five innings giving up eight runs on seven hits while walking four and striking out four.
The Tigers are off tomorrow. They will resume play on Friday as they travel to Kansas City for a three game series. The Tigers will send Anibal Sanchez to the mound (12-7 2.68 ERA) while the Royals will counter with Rick Shields (10-8 3.03 ERA). Broadcast time is set for 7:45 pm on AM 590 WKZO. First pitch is scheduled for 8:10 pm.