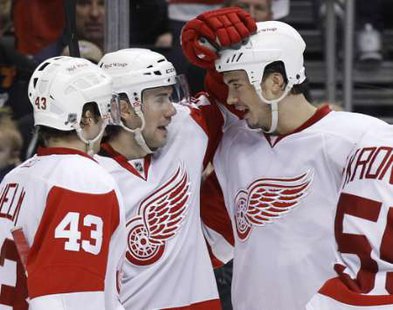 DETROIT (WKZO)- The Detroit Red Wings led the game twice tonight against the New York Rangers, but they fell in overtime as Derick Brassard scored the game winning goal at the 4:47 mark to give the Rangers a 3-2 victory.
The game started out well for the Red Wings as Drew Miller scored at the 17:12 mark of the first period to give them a 1-0 after one period of play.
The Rangers then evened up the score at 17:20 of the second period on the power play of the stick of Benoit Pouliot. Then Daniel Alfredsson scored on the power play at 19:49 to put the Red Wings up 2-1 after the second period.
The Rangers though evened up the score quicky in the third period as Mats Zuccarello found the back of the net. Then the Rangers won the game in overtime.
Jimmy Howard made 37 saves tonight. The Red Wings fall to 6-4-2 on the season and they begin a four game Canadian road trip on Wednesday beginning in Vancouver. Broadcast time is set for 10:10 pm on 1660 the Fan