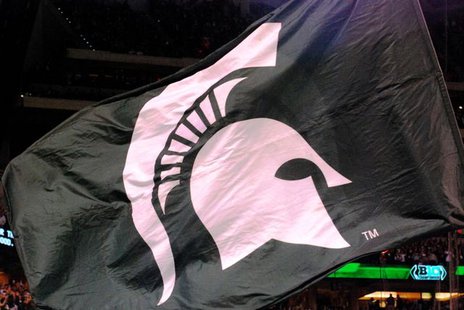 CHAMPAIGN (WKZO)- Michigan State did not believe this was a trap game heading into the Michigan game next week and they showed it as the Spartans defeated the Fighting Illini 42-3.
Illinois got the scoring started as they connected on a 31-yard field goal off of the leg of Taylor Zalewiski as they led 3-0 after the first quarter.
Jeremy Langford got the Spartans on the board with a one-yard touchdown run in the second quarter as they took the lead 7-3. The Spartans were then able to make a goal line stand against the Illini midway through the second quarter. Then the Spartans moved it down field and on a third-and-25 Connor Cook threw a pass to the endzone that was tipped twice and the ball fell into the hands of Bennie Fowler to give the Spartans a 14-3 at the break.
Cook found Josiah Price with 10:07 remaining in the third quarter to put the Spartans up 21-3. Langford added another touchdown run, this one from seven yards out to give the Spartans a 28-3 lead after three quarters.
Cook added another touchdown in the fourth quarter as he hit Keith Mumphery on a 47-yard pass. Delton Williams capped off the scoring on a 42-yard touchdown for Michigan State.
Cook was 15-16 for 208 yards and three touchdowns. He set a Michigan State record for passing efficiency. Langford carried the ball 22 times for 104 yards and two touchdowns.
The Fighting Illini were held in check as they were averaging 35 points a game. They only had eight first downs and 128 total yards.
Michigan State improves to 7-1 (4-0 Big Ten) and take first over first place in the Legends division with Nebraska losing to Minnesota. Next week Michigan State has a big showdown with their instate rivals the Michigan Wolverines 6-1 (2-1 Big Ten). The winner of the game will take home the Paul Bunyan trophy and will control thier destiny in the Big Ten Legends race.
Game time is set for 3:30 next Saturday in East Lansing. Pre-game broadcast starts at 2:30 on AM 590 WKZO. If you would like to hear the Michigan broadcasters you can catch them at the same time on 1660 the Fan.