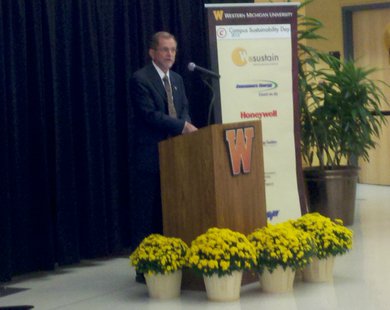 KALAMAZOO (WKZO) -- Western Michigan University officials and community leaders gathered at WMU's Chemistry Building just before noon Wednesday to celebrate Campus Sustainability Day. WMU President Dr. John Dunn was among the keynote speakers, saying that the university is dedicated to sustainability.
Kalamazoo Mayor Bobby Hopewell was also on hand, as well as former New Jersey Governor and former EPA administrator Christine Todd Whitman. Consumers Energy presented Dunn with a check for nearly 118-thousand dollars to invest in campus sustainability projects.
Upgrades to campus facilities are expected to trim carbon emissions by 4.4-million pounds, roughly the equivalent of 388 vehicles on the road.