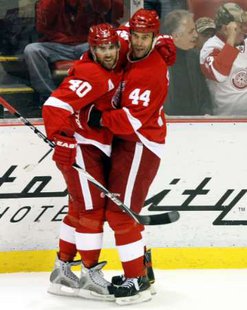 DETROIT (WKZO)- Detroit Red Wings goalie Jonas Gustavsson was making his second start in as many days in place of the injured Jimmy Howard and he was brilliant stopping 36 of 37 shots on goal. The Red Wings went on to victory defeating the Columbus Blue Jackets 2-1.
The Red Wings struck first as their newest player Daniel Alfredsson lit the lamp at 5:05 of the first period.
Cam Atkinson of the Blue Jackets tied it up at 7:48 of the second on the power play. However, at 11:14 of the second Todd Bertuzzi answered right back for the Red Wings on the power play to give the Red Wings a 2-1 lead and that would be the difference as neither team found the back of net in the third period.
The Red Wings improve to 5-2 on the young season, winning their third straight game, as they are adjusting to the Eastern Conference. The Red Wings will be back in action on Thursday as they travel to take on a undeafeated Colorado Avalanche team (5-0), at the time this article is written, and renew their rivalry. Broadcast time is at 8:40 pm on 1660 the Fan.