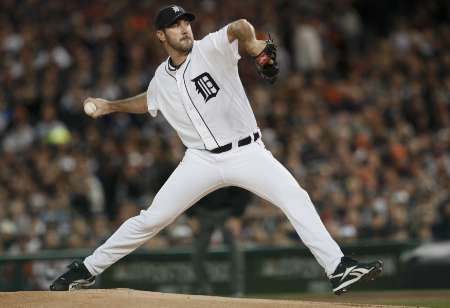 DETROIT (WKZO)- Justin Verlander did all he could to help the Detroit Tigers out going eight innings and giving up four hits and striking out 10. However he did give up one run, a solo home run to Mike Napoli, in the top of the seventh. That proved to be the difference as the Boston Red Sox defeated the Detroit Tigers 1-0 and take a 2-1 lead in the ALCS.
The Tigers looked like they were going to strike first in the first inning as Torii Hunter was able to reach with a single and then get to third on a Prince Fielder single, but Victor Martinez flied out to end the inning.
Verlander did strike out the side in the second and third innings. His six strikeouts in a row ties a MLB postseason record.
The Tigers once again had a chance in the fifth after Jhonny Peralta hit a lead off double and then moved to third on an Alex Avila groundout, but was unable to score after Omar Infante struck out and Andy Dirks grounded out.
The Tigers once again put two on in the seventh and eighth, but failed to score again.
There was a 17 minute delay just before the third inning begun due to a power outage at Comerica Park that knocked out the lights and the scoreboard.
Game three is Wednesday back at Comerica Park. Doug Fister will square off against Jake Peavy. Broadcast time is at 7:40 pm on AM 590 WKZO.