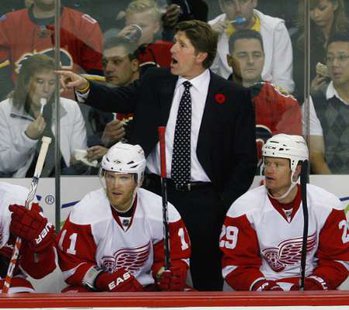 BOSTON (WKZO)- The Red Wings were able to stop the Bruins from creating another Boston comeback in the last two days defeating them 3-2. The Red Wings were able to strike first at 11:33 off of a slap shot from Henrik Zetterberg, his fifth goal of the season. The Bruins Loui Eriksson evened the game at 14:12.
The Red Wings then opened up the scoring in the second period as Stephen Weiss found the back of the net at 8:21 and Daniel Cleary added another goal at 10:41 to give the Wings a 3-1 lead.
The Bruins added one goal in the third period at 18:40 off of the stick of Milan Lucic.
The Red Wings had zero power plays during the game, but the Bruins went 0 for 5 on their power play attempts.
Red Wings backup goalie Jonas Gustavsson played in place of Jimmy Howard who was out with a catching hand injury. He stopped 28 of 30 shots.
The Red Wings are in action again tomorrow against the Columbus Blue Jackets. Broadcast time is 7:10 on 1660 the Fan