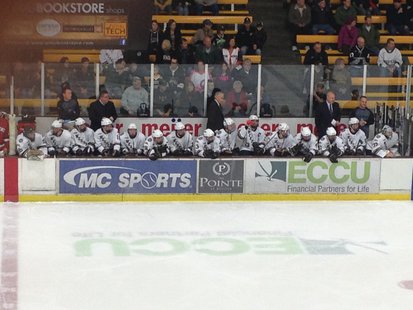 Note: For WMU Hockey score updates, text BRONCOS to 80373
KALAMAZOO (WQLR) -- For a second straight night, No. 18 Western Michigan was shutout by No. 8 Notre Dame, falling in the home opener 3-0.
VIDEO: Watch WMU Hockey Head Coach Andy Murray's postgame comments here
4,118 fans in attendance saw a physical game with a total of eight penalties called in the opening frame alone. The Irish held a 9-8 shots-on-goal advantage.
The Bronco penalty kill unit stood tall through two periods, blanking nine Notre Dame power plays. The Irish got on the board in the middle frame on an even strength goal by Thomas DiPauli. Shayne Tanker added a power play tally in the middle frame, and Kevin Lind sealed the win with an empty net goal late in the third period. Western Michigan was outshot 41-22 on the night.
Junior goaltender Frank Slubowski stopped a game-high 38 shots, including 19 in the second period.
Western Michigan travels to Alaska next weekend. Friday's game against Alaska Anchorage is set for 9:05 pm. Saturday's game against Alaska Fairbanks is 11:05.