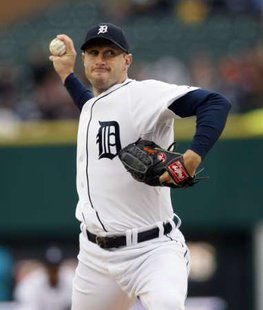 DETROIT (WKZO)- Early on it didn't look good for the Detroit Tigers, their offense was still dorment and the A's had a 3-0 lead after the top of the 5th inning.
Then the sleepy giant finally woke up. Prince Fielder started off the bottom of the fifth hitting a bloop single to left. The next batter Victor Martinez also hit a single, this one to right. Then Jhonny Peralta stepped up and hit a three-run home run to even the score at 3-3. It was the first home run for the Tigers in last eight games.
Oakland though got a run in the seventh off of Max Scherzer, who came out of the bullpen, to give the A's a 4-3 lead.
Their was some controversy in the bottom of the seventh. Martinez hit a deep fly ball to right and as Josh Reddick leaped to attempt to catch the ball, a fan reached out and touched the ball. The umpires called it a home run. Then the umpires went into the replay room to review the play, but the play stood as a home run and the game was tied 4-4.
Peralta then got a double and Andy Dirks came in to pinch run for him. After a Jose Iglesias walk, Austin Jackson delieverd a big two out single to bring Dirks home and give the Tigers a 5-4 lead.
It got intense in the top of the 8th as the A's loaded the bases with no outs. Scherzer though showed everyone why he is one of the best pitchers in baseball. Scherzer struck out Reddick and Stephen Vogt and then got Alberto Callaspo to line out to center. Scherzer headed to the dugout and high fived everyone along the way.
In the bottom of the eighth Omar Infante doubled to left with two outs and was able to bring home Dirks and Hernan Perez, who pinch ran Martinez and the Tigers led 8-4.
Joaquin Benoit came in the ninth and gave up two runs, but he struck out Seth Smith to end the game.
Doug Fister went six innings giving up three runs on seven hits. Max Scherzer gets the win pitching two innings giving up one run on three hits.
Justin Verlander will take to the mound for the Tigers in game and he will face either Bartolo Colon or Sonny Gray for the A's
With the win the Tigers even up the series at 2-2 with the decisive game five on Thursday. Broadcast time is tentatively set for 8:40 pm on AM 590 WKZO.