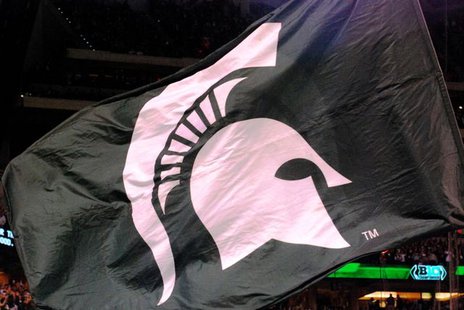 EVANSTON (WKZO)- The #13 Michigan State Spartans have clinched a spot in the Big Ten Championship game and the Legends Division title with a 30-6 victory over Northwestern.
Northwestern had an early 3-0 lead after the first quater, but the Spartans used a big second quarter to begin pulling away from the Wildcats. Jeremy Langford had a 20-yard touchdown run to give the Spartans a 7-3 lead. Then later in the quarter Connor Cook threw a very wobbly pass to Bennie Fowler who caught the pass with one hand and broke away from his defender to get a 87-yard touchdown to take a 14-3 lead. The Wildcasts added a field goal to cut the lead to 14-6 at halftime.
The Spartans started the third quarter with a field goal to lead 17-6. Then Cook found Josiah Price on a 15-yard strike to put the Spartans up 23-6 as the extra point was blocked. Langford then put the icing on the cake in the fourth quarter with a 37-yard touchdwon run. Langford finished with 25 carries for 150 yards and 2 TDs.
The Spartans pilied up 464 offensive yards in the victory and forced three Wildcat turnovers.
Michigan State 10-1 (6-0 Big Ten) will finish off the regular season next Saturday at Spartan Stadium vs the Minnesota Golden Gophers 8-3 (4-3 Big Ten). Game time is TBA and can be heard on AM 590 WKZO.