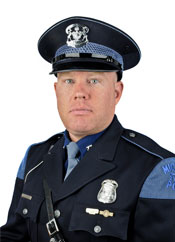 LUDINGTON (WKZO) -- The mother of the West Michigan man charged with killing a Michigan State Police trooper is now facing charges of being an accessory after the fact.
Tammi Spofford was charged in Mason County Tuesday for allegedly helping her son Eric Knysz steal a car the day of the murder. Prosecutor Paul Spaniola tells reporters they wanted to charge Spofford earlier but had to wait for admissible evidence.
Knyze is accused of shooting and killing Trooper Paul Butterfield during a traffic stop in September.