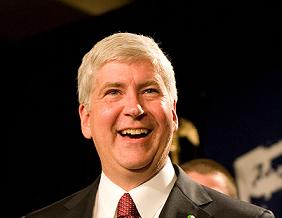 LANSING (WKZO) -- A new poll released today shows Michigan Governor Rick Snyder increasing his lead over likely Democratic challenger Mark Schauer in the 2014 gubernatorial race.
A Lansing-based public relations firm polled 600 likely voters and found Snyder getting a 44.5-percent approval rate. Schauer was approved by 31-percent of those polled. The poll represents an increase for Snyder who had just a six-percent advantage over his challenger in a poll taken in July.
Snyder's popularity may be tied to a separate poll that found nearly 56-percent of voters think the state's economy is headed in the right direction.