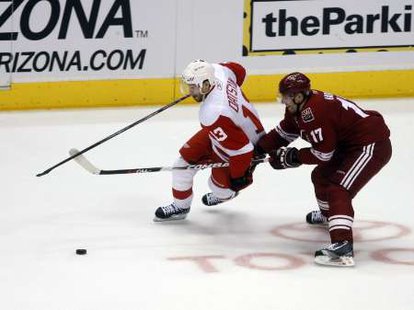 UNIONDALE (WKZO)- The Detroit Red Wings went to overtime for the fifth straight game and once again fell short as they lost to the New York Islanders 5-4 in a shootout. The Red Wings were once again shutout in the shootout. The Red Wings have now lost six straight games, however they have recieved one point for each game that has went to overtime they lost.
The Red Wings fell behind early as John Tavares scored 4:03 into the game. It did not take long for the Red Wings to respond as Darren Helm scored nine seconds later at 4:12 to even the game up at 1-1. Then at 17:18 Pavel Datsyuk found the back of the net on the power play to give the Red Wings a 2-1 lead after one period of play.
The Islanders evened up the score late in the second period at 17:50 off of the stick of Casey Cizikas. Once again the Red Wings evened it up quickly at 18:23 as Johan Franzen gave the Wings a 3-2 lead. However the Islanders evened the score at 3-3 on the power play at 19:10 as Brock Nelson found the back of the net.
The Islanders were able to grab the lead at 4:43 into the third as Pierre-Marc Bouchard scored. The Red Wings were able to even up the game late as they put on the extra attacker and Datsyuk deflected the puck off a defender and into the net at 19:17.
Both teams could not score in the five minute overtime. The Islanders scored on their first shooter in the the shootout as Frans Nielsen beat Jonas Gustavsson and that was the difference.
The Red Wings had five penalties in the game, one a double minor by Franzen, and the Islanders only had one and that was in the first period.
The Red Wings (9-5-7) look to get back on the winning track on Tuesday as they take on the Nashville Predators in Detroit (9-9-2). Broadcast time is at 7:10 pm on 1660 the Fan.