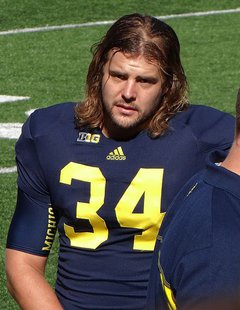 EVANSTON (WKZO)- It took three overtimes, but the Michigan Wolverines were able to snap their two game losing streak as they beat the Northwestern Wildcats 27-19.
The Wolverines trailed 9-6 with six seconds to go in the game with the clock running. They had to run their field goal team onto the field and Brenden Gibbons was able to hit a 44-yard field as time expired to tie the game at 9-9.
In overtime Jake Butt hauled in a 11-yard touchdwon pass from Devin Gardner to give the Wolverines a 16-9 lead. It was Butt's first collegiate touchdwon. Northwestern responded with a touchdown of thier own as Kain Colter ran the ball in from one-yard out to tie the game at 16-16.
The Wildcats kicker Jeff Budzien added another field goal to give the Wildcats a 19-16 lead. The Wolverines had a chance to win the game, but Jermey Gallon dropped a touchdwon pass in the endzone. The Wolverines had to settle for a Gibbons field goal from 29-yards away to tie the game at 19-19.
In the third overtime Devin Gardner ran the ball in from five-yards out to give the Wolverines a 25-19 lead and then converted a two point conversion to make the score 27-19. The defense was able to force Northwestern back to the 40-yard line and they could not get a first down and the Wolverines went on to win the game.
No touchdowns were scored in regulation as each team kicked three field goals. Gibbons made field goals from 25, 28, and 44 yards. Budzien made kicks from 40, 22, and 29 yards.
Michigan gained 137 yards rushing on the day and had 200 passing yards and no turnovers.
The Wolverines improve to 7-3 (3-3 Big Ten) and they will take on the Iowa Hawkeyes (6-4) next Saturday. Game time TBA and can be heard on 1660 the Fan.