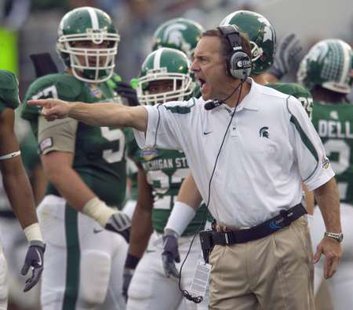 LINCOLN (WKZO)- The Michigan State Spartans continue their march to a possible Big Ten Championship showdown with the #3 Ohio State Buckeyes as the Spartans defeated Nebraska 41-28.
The #14 Spartans forced five Cornhuskers turnovers, four fumbles and one interception, as the Spartans didn't turn the ball over once.
The Spartans jumped out to a quick 10-0 lead in the first quarter on a 45-yard field goal from Michael Geiger and R.J. Shelton had a five-yard touchdown run. The Cornhuskers answered back as Sam Burtch hauled in a 32-yard touchdown pass from Tommy Armstrong to cut the score to 10-7 after one quarter.
Geiger added a 25-yard field goal in the second quarter to extend the lead to 13-7. The Cornhuskers fumbled the ball right before halftime to give the Spartans another chance and Jeremy Langford took advantage as he bullied his way into the endzone from six yards out to give the Spartans a 20-7 halfime lead.
The Cornhuskers started out strong in the second half as Imani Cross had a 51-yard run for a touchdown to cut the lead to 20-14. Langford struck right back for the Spartans on a three-yard TD run to give the Spartans a 27-14 lead. Nebraska would not go away easy as Kenny Ball caught a 38-yard touchdown pass from Tommy Armstrong to cut the lead to one score again at 27-21.
The Spartans finally pulled away in the fourth quarter as Keith Mumphery caught a 27-yard strike from Connor Cook and Langford ran for his third touchdwon of the day, this one from 37-yards out to give the Spartans a 41-21 lead. The Cornhuskers added a late touchdown, but it wasn't enough.
Michigan State had the ball for a little over 38 minutes in the game. Langford had 32 carries for 151 yards and the before mentioned three touchdowns. Cook was 15 for 31 throwing for 193 yards and a TD.
Michigan State is now 9-1 (6-0 Big Ten) and are in control of thier own destiny in the Legends division. Next week the Spartans travel to Evanston to take on the Northwestern WIldcats (4-6). A Spartans win will clinch a spot in the Big Ten Championship game. Game time TBA and the game can be heard on AM 590 WKZO.