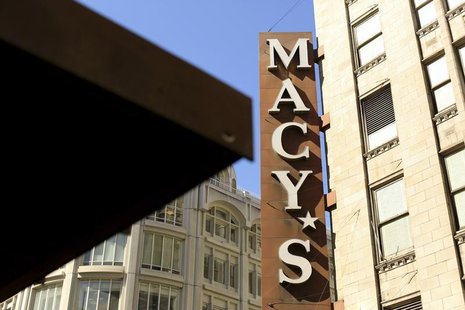 By Phil Wahba
(Reuters) - Macy's Inc on Wednesday reported a rebound in sales, helped by more promotions, and the U.S. department store chain said business was improving as the holiday season nears.
The news reassured investors that the retailer was back on track after a disappointing prior quarter, when it said it had not offered enough lower-priced merchandise in a difficult economy. Shares of Macy's rose 9.5 percent to $50.74 in midday trading.
Business picked up markedly in the third quarter ended November 2, especially in October. Macy's said comparable sales, which include those online and at stores open at least a year, rose 3.5 percent, while analysts were expecting an increase of 2.1 percent, according to Thomson Reuters I/B/E/S.
After the sales shortfall in the summer, Macy's increased its selection of lower-priced items and ramped up advertising and in-store signage during sales events to tout its least-expensive merchandise.
"We have consciously gone after that opening price point business lately and have been very successful there," Chief Financial Officer Karen Hoguet said on a conference call.
Macy's, which caters to a middle-class clientele, offers a broad range merchandise, from $10 cotton T-shirts to Louis Vuitton handbags.
Despite the strong results, Macy's did not raise its full-year forecast for comparable sales, which it expects to be up between 2.5 percent and 4 percent.
Edward Jones analyst Brian Yarbrough attributed some of the sales increase to more-aggressive promotions and extended sales events. But those efforts hurt gross profit margin, which fell slightly to 39.2 percent of sales from 39.6 percent.
Macy's Hoguet said she expected gross margin to remain under pressure.
Nonetheless, Yarbrough said Macy's was ahead of many rivals in its ability to leverage its stores to fill online orders, and he praised the retailer's merchandise selection.
"They're in good shape," he said. "Unless something changes abruptly in consumer sentiment, they should have a great holiday season."
Macy's results echoed those of retailers like Gap Inc , Victoria's Secret parent L Brands Inc and J.C. Penney Co Inc . Las week, all three reported much stronger sales for October than they had for September and August.
Those numbers suggest that apparel sales have picked up after a weak back-to-school season and that the mood of shoppers is improving after consumer confidence in September fell to its lowest level of the year.
In another sign of optimism, fashion company Ralph Lauren , whose biggest single customer is Macy's, said last week that it expected wholesale orders to be up "significantly" for the rest of the year.
Macy's, which also operates the upscale Bloomingdale's chain, stuck by its previous forecast for a profit of $3.80 to $3.90 per share for the year, higher than Wall Street projections of $3.78.
The retailer reported net income of $177 million, or 47 cents a share, for the quarter, compared with $145 million, or 36 cents per share, a year earlier. Analysts had been expecting 39 cents per share.
Macy's results lifted shares of several rivals, with Kohl's Corp up nearly 1 percent, Penney up 2.6 percent and Nordstrom Inc up 2.2 percent.
Kohl's and Nordstrom will report quarterly results on Thursday, and Penney will do so on November 20.
(Reporting by Phil Wahba in New York; Editing by Lisa Von Ahn and Gerald E. McCormick)