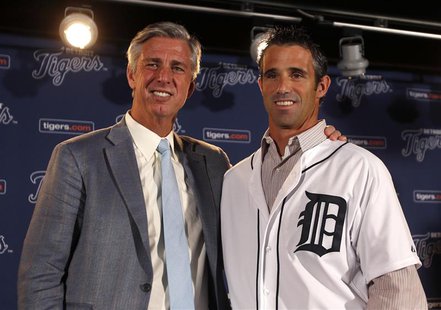 Detroit Tigers' general manager David Dombrowski was convinced Brad Ausmus was the man for the job after four interviews.
"When we interviewed, we were -- not just me -- taken back at how impressive he was," Dombrowski said. "It really became quite clear for us, that he would do an outstanding job for us. It was probably not where I started, but it's where we ended, and we feel very good about that."
Despite no professional managerial experience, Ausmus was named the 37th manager in Tigers' history on Sunday afternoon signing a three-year deal, replacing Jim Leyland, who stepped down after eight-seasons at the helm.
Ausmus was the hot name for numerous teams looking for a new skipper, as he also interviewed with the Chicago Cubs and Washington Nationals but found Detroit to be the best situation based on its deep and talented roster.
"I'm well aware that you don't generally get dropped into a situation like I will be this coming season," Ausmus said. "I understand I'm very fortunate. That being said, I'm not taking anything for granted. No details will be glossed over. I'm not assuming anything going into the job."
Ausmus spent 17 years in the Majors with four teams and since retiring in 2010, has worked in the San Diego Padres' front office as a special assistant to the general manager. The only managerial experience for Ausmus occurred in fall 2012 when he managed Team Israel, which failed to qualify for the 2013 World Baseball Classic. Many will question the hire of Ausmus, 44, because of his lack of experience, but the Tigers are just the next team to follow the recent trend of hiring first time managers, after the departure of "old-school" managers.
With-in the last week, former All-Star third baseman Matt Williams was hired in Washington after the retirement of Davey Johnson, while the Reds replaced Dusty Baker with pitching coach Bryan Price. Both Williams and Price have never managed before. Even the 2013 NL Champion St. Louis Cardinals hired Mike Matheny in 2012 without any previous manager experience.
But Ausmus makes sense for the Tigers for multiple reasons. Obviously if you can impress David Dombrowski you must be doing something right. The Dartmouth-educated Ausmus was already well respected around the game and as a player was viewed as one of the smartest catchers in the game with is ability to call a game and get the most out of his pitching staff.
Still the hire of Ausmus will be a risk. How he deals with the egos of high priced players Miguel Cabrera, Prince Fielder and Justin Verlander will go a long way in determining his success. A lot of pressure will be placed on Ausmus early to lead the Tigers to the World Series after three straight trips to the ALCS without a World Series ring. However, it was the confidence from Dombrowski in Ausmus that he could win now that gave Ausmus the advantage over other candidates.
"We think he's going to be a very good big league manager for a long time and help us win right now," Dombrowski said. "That was always part of our process. Can he help us win right now? And the answer was yes."