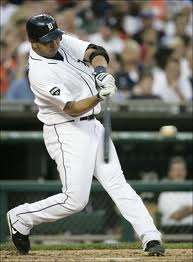 Detroit, MI (WKZO) – Jhonny Peralta had four hits and three RBIs and Justin Verlander had a season high 13 strikeouts as the Tigers took the first of two against the Pittsburgh Pirates 6-5 on Monday afternoon at Comerica Park.
In his last three starts, Verlander had been shelled allowing 16 ERs in just 12 2/3 innings but rebounded nicely against the Pirates giving up only three earned runs in seven innings in picking up his sixth win and first quality start since May 5th against Houston.
Trailing 1-0 in the fourth inning Peralta knocked in his first run, singling in Prince Fielder to tie the game at one. In the next inning after Victor Martinez doubled in two runs to put the Tigers up 3-1, Peralta recorded his second RBI with a double of his own scoring Martinez and increasing the Tigers lead to 4-1.
After the Pirates scored two runs in their half of the seventh inning cutting the lead to 4-3, Peralta singled in Miguel Cabrera for the Tigers fifth run. Two batters later Brayan Pena walked with the bases loaded for Detroit's sixth and final run.
Joaquin Benoit replaced Verlander in the eighth and gave up two runs – one earned--to the Pirates, but Jose Valverde recorded all three outs without allowing a run in the ninth for his sixth save of the season.
Francisco Liriano took the loss for Pittsburgh, his first of the year. In five innings Liriano gave up four runs – all earned – on eights hits while striking out three and walking two.
Torii Hunter, Prince Fielder, and Victor Martinez each had two hits and scored at least one run. Fielder scored three times.
Game Notes: Verlander is now 20-2 against National League teams...Peralta extended his hitting streak to eight games while Miguel Cabrera's 12 game hitting streak came to an end. Cabrera went 0 for 4 with a walk and three strikeouts… It was Peralta's first four hit game since June 4, 2010 when he was a member of the Cleveland Indians…Tigers and Pirates wrap up their two game series in Detroit on Tuesday as Rick Porcello (2-2, 6.28 ERA) takes the mound verses Jeanmar Gomez (2-0, 2.75)