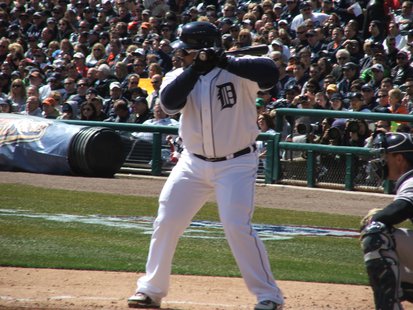 The Tigers trailed by three runs at two different times in the game, but they used some late inning heroics to come from behind to claim a 7-6 win over the Minnesota Twins on Thursday night at Comerica Park. It was the third straight win for the Tigers and they also hand the Twins their ninth straight loss.
Miguel Cabrera got the Tigers on the board with a two run home run which marked his sixth home run in the last four games. That early lead would not hold up as the Twins would strike back with one run in the second inning and added four runs in the third inning, highlighted by a Josh Willingham three run home run. The two teams would both add one more run before the bottom of the seventh inning when the Tigers scored three runs to tie the game. In the bottom of the eighth the Tigers would strike again and this time to win the game. Prince Fielder drove in Omar Infante to give Detroit the lead for good and Jose Valvede made it hold up with a 1-2-3 ninth inning.
Detroit will head back to the field for game two of their series with the Twins on Friday night at 7:08.