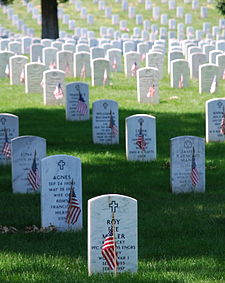 KALAMAZOO (WKZO) - Ceremonies to honor those who have paid the ultimate price in the protection of America's freedom are set to take place this coming Sunday and Monday. The Memorial Day services are listed below:
Sunday, May 26th
Fort Custer National Cemetery in Augusta - Memorial Day service to be held at 2 pm.
Monday, May 27th
Kalamazoo - Parade at 10 am. Route goes from Michigan Ave to the Riverside Cemetery on Gull Rd.

Portage - Parade at 10 am, beginning at Southland Mall to the Portage Veterans' Memorial/Portage Central Cemetery.

Allegan - Parade commences from the Griswold Auditorium to the Oakwood Cemetery at 10 am.

Bangor - 8:30 am ceremony at the Veterans Memorial, then a parade at 9 am on M-43 to the Arlington Hill Cemetery

Climax - 9:30 am parade, beginning at Climax-Scotts High School and going to Prairie Home Cemetery.

Comstock - Parade from Comstock Ave. to Merrill Park, beginning at noon.

Gobles - Parade begins at 9 am, moving down M-40, ending with a ceremony in the park.

Mattawan - Parade starting at Mattawan Early Elementary School at 11 am, ending with a ceremony in the village park.

Otsego (with Alamo) - Parade starts at 9:30 am, beginning at Mountain Home Cemetery and going to Memorial Park.

Plainwell - Ceremony at noon in Sherwood Park. No parade this year due to the road construction.

Schoolcraft - 11 am parade, beginning at Cedar and Cass streets, ending at Schoolcraft Cemetery.

Vicksburg - Parade beginning at 10 am at the Vicksburg Administration building, travelling to Vicksburg Cemetery.