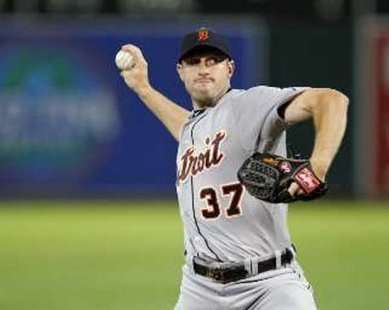 Cleveland, OH (WKZO) – Max Scherzer gave up two singles and a walk in the first inning then shut down the final 22 batters he faced as the Tigers took the opening game of a brief two game series with the Cleveland Indians 5-1.
Scherzer went eight innings and struck out seven while improving his record to 6-0. Jose Valverde came on in the ninth in a non-save situation and allowed a hit and hit a batter but finished the game without giving up a run.
Miguel Cabrera continued to punish opposing pitchers, blasting his 12th home run of the year to deep center to give the Tigers a 3-1 lead in the sixth inning. Andy Dirks hit a solo shot for the Tigers first run just two batters before Cabrera. Dirks later drove the Tigers fourth run in the ninth with a single.
Prince Fielder struck out four times against Indians starter Corey Kluber, but singled with the bases loaded in the ninth scoring Omar Infante for the Tigers final run.
Kluber finished with eight punch outs before being lifted in the seventh.
Victor Martinez went 3 for 5, and Infante had two hits.
Tigers and Indians finishing up their two game series on Wednesday night at 7:05pm. Justin Verlander (4-4, 3.17) looks to rebound after struggling in his last two outings on Wednesday night vs. Indians starter Ubaldo Jimenez (3-2, 5.31)