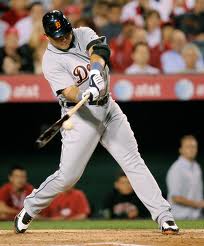 Arlington, TX (WKZO) – Miguel Cabrera hit three home runs and drove in five runs but the Tigers pitching staff blew leads of 4-1, and 7-5 as the Tigers finished up their four game series against the Rangers with a 11-8 loss on Sunday night.
With the Tigers trailing 1-0, Cabrera hit his first of three home runs in the third inning, a three run blast that traveled 453 feet to right center field to tie his longest home run hit this season. The home run was also the longest Texas starter Derek Holland has allowed in his career. Cabrera then added a solo shot in the fifth increasing the lead to 4-1. The 2012 MVP and Triple Crown winner connected on his third homer and second solo shot in the eighth for the Tigers final run.
But that's when the wheels started to come off for the Tigers' pitching staff. Doug Fister allowed four runs in the Rangers half of the fifth and was chased from the game before recording the final out of the inning. And that was just the start of the outpour of runs for the Rangers.
They added four more runs in the sixth off Jose Ortega to regain the lead 9-7, after the Tigers had scored three in their half of the sixth from a bases clearing double from Prince Fielder. The Rangers tallied on two more in the seventh off Tigers' reliever Phil Coke for their final two runs.
Ortega took the loss for Detroit, the first of his career. Matt Tuiasosopo walked four times. Neither starting pitcher lasted more than five innings. Tigers are off on Monday as they head to Cleveland for a two game series starting on Tuesday night.