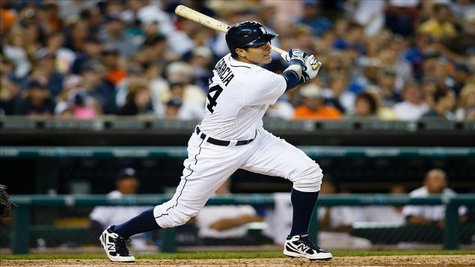 Detroit, MI (WKZO) – Down two runs with the bases loaded and two outs who else would you want at the plate other than Miguel Cabrera? Unfortunately Comerica Park's deep right center field took away what would have been a home run in almost any other stadium as Brandon Barnes made a leaping catch into the wall to rob extra bases from Cabrera and closed out a 7-5 victory for the Astros, avoiding the series and season sweep against the Tigers.
Phil Coke allowed two runs in the ninth – one inherited from Al Alburquerque (0-1) who took the loss – to break up the 5-5 tie. Carlos Corporan doubled in Barnes from first to give Houston the lead, then scored the Astros seventh run on a sac fly from Matt Dominguez. Corporan also added a solo home run in the second inning off Tigers starter Max Scherzer.
Scherzer went seven innings, with seven strike outs but gave up two home runs, the solo shot to Corporan and a three run bomb to J.D. Martinez in the fourth inning, giving the Astros a 5-4 lead.
Making his first start of the season in center field, Avisail Garcia hit his first career home run with two runners on in the second to give the Tigers a 4-1 lead. Garcia was called up from AAA-Toledo after Austin Jackson was placed on the 15-day DL on Monday.
Hector Ambriz (1-2) got the win for Houston, while Jose Veras pitched the ninth inning for his fifth save.
Tigers Highlights:
*Brayan Pena threw out Robbie Grossman at second on a strike 'em out, throw 'em out fanning Jake Elmore. Grossman walked to start the game. Pena later got Jose Paredes trying to steal second for the third out in the seventh. Pena also drove in the Tigers first run with an infield single in the second scoring Peralta and tying the game at one.
*Scherzer was able to help himself out as he picked off Paredes from second after he doubled with one down in the fourth.
*Drew Smyly came in the eighth and after giving up two singles was replaced by Al Alburquerque who struck out Chris Carter to end the threat.
*Matt Tuiasosopopo went 3 for 3 with a run scored and an RBI in the bottom of the sixth, scoring Victor Martinez and tying the game at five.
Tigers Lowlights:
*During Carlos Corporan's home run, Tigers right fielder Torii Hunter didn't even move or look back at the ball as it landed 15 rows deep into the right field bleachers.
*Cabrera singled to left with one out in the third, but Prince Fielder followed with a ground ball to short that was turned into a double play.
*With runners on first and second and one down, Brayan Pena grounded into a 5-4-3 double play.
*Omar Infante was picked off first by Astros catcher for the first second out in the bottom of the seventh.
Game Notes: Tigers win the season series with Houston 6-1...All five Tigers runs came with two outs…Tigers head to Texas for four games with the Rangers starting on Thursday night. In a battle of aces Justin Verlander (4-3, 1.93) squares off against Yu Darvish (6-1, 2.73).